Key benefits
Cut your business costs. Bills, Receipts and Invoices automatically imported into QuickBooks in seconds.
Improve your Business Data. More comprehensive data, Line items details extracted and automatically coded from your invoice history.
How it works with QuickBooks
Send your invoices or receipts to EzzyBills - they will be in your QuickBooks Online account in seconds. Super Fast and Accurate. 100% Automatic. Free Trial .
Details
EzzyBills is an Add-on to extract invoice data from all your bills, receipts and sale invoices, and export to QuickBooks in seconds. Artificial intelligence is used to extract all invoice data including line items and automatically set your account codes. EzzyBills support both PDF and scanned images, or photos of receipts using a smart phone.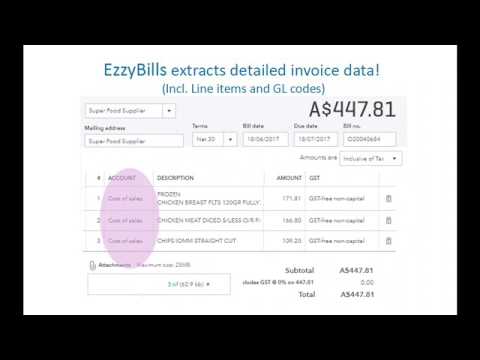 Prepaid plan, starting from US$75 per year (i.e. ~$6 per month)
| PLAN | PRICE | USERS | DETAILS |
| --- | --- | --- | --- |
| Light | US$75 per year | Unlimited | One company. Up to 700 invoices. |
| Standard | US$185 per year | Unlimited | One company. Up to 2000 invoices. |
| Enterprise E5 | US$370 per year | Unlimited | Shared plan - unlimited number of companies and 4000 invoices. |
| Premium Plus | US$1850 per year | Unlimited | One company. Up to 25,000 invoices. |
| Enterprise E50 | US$3700 per year | Unlimited | Shared plan - unlimited number of companies and 50,000 invoices. |
Email & phone support and online documentation & video
Contacts
support@ezzydoc.com 510 470 7097

Online support:

https://www.ezzybills.com/contact-us/
FAQ
How long does it take for EzzyBills to process an invoice?

In seconds, not hours or days.

What types of invoices does EzzyBills support?

Supplier's invoice (bills), sale invoices, credit notes. PDF or scanned.

Can we email invoices to EzzyBills?

Yes, you will have a dedicated upload email address when you sign up.

What QuickBooks products does EzzyBills support?

QuickBooks Online
---